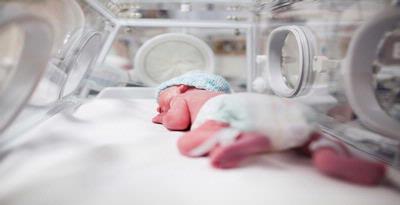 Sharing Mania -
Karena organ-organnya belum matang secara sempurna, bayi yang terlahir prematur lebih rentan mengalami gangguan pada paru dan jantungnya. Akibatnya mereka juga sering mengalami henti napas saat tidur (sleep apnea) dan melambatnya denyut jantung (bradikardia). Dalam sebuah riset berskala kecil diketahui bayi-bayi prematur yang diperdengarkan suara ibunya tau rekaman detak jantung sanga ibu, cenderung lebih jarang mengalami sleep apnea.
Studi berskala kecil tersebut dilakukan para peneliti dari Neonatal Intensive Care Unit, Brigham and Women Hospital (BWH), Boston. Dalam risetnya, peneliti melibatkan 14 bayi prematur yang lahir ketika usia kehamilan memasuki 26 dan 32 minggu. Setiap hari, selama empat kali mereka diperdengarkan rekaman suara atau detak jantung ibu mereka. Rekaman tersebut diputar ke inkubator bayi 'melalui sistem audio khusus mikro yang dikembangkan di Brigham and Women Hospital.
Hasilnya menunjukkan bahwa bayi-bayi tersebut memiliki risiko lebih kecil untuk mengalami masalah jantung dan paru ketika mereka mendengar rangsangan suara ibu, ketimbang bayi yang mendengar suara rutin di rumah sakit.
"Temuan kami sangat menjanjikan dan menunjukkan bahwa paparan suara ibu dapat membantu bayi prematur dalam jangka pendek dengan mengurangi kejadian kardiorespirasi," kata peneliti studi, Amir Lahav, Direktur BWH Neotanal Research Lab.
"Namun, mengingat sampel kami berskala kecil, penelitian lebih lanjut diperlukan untuk menentukan apakah intervensi berupa rangasangan suara ibu bisa berdampak pada perawatan dan kesehatan bayi prematur," tambah Lahav.
Peneliti juga menegaskan bahwa meskipun hasil penelitian menunjukkan ada hubungan antara rangsangan suara ibu dan pengurangan peristiwa kardiorespirasi, tetapi temuan ini tidak membuktikan hubungan sebab-akibat. Studi ini dipublikasikan secara online dalam
The Journal of Medicine Maternal-Fetal and Neonatal Medicine
.
Sumber :
Kompas.com